John Warrick's History of Old Cumnock 1899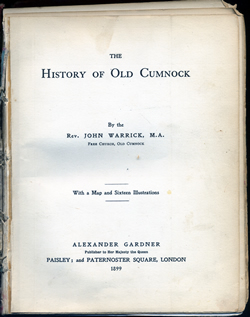 Although there are several free sources of the digitised book available online we felt that none of these really did the book justice. They miss out some of the finer details such as good quality copies of the illustrated plates, or some have recoloured the pages or missed out the map completely. None contain anything about the history of the book as an object in itself or anything about it's author John Warrick. Here we remedy that.
The book here was digitised over a few months and scanned from 3 copies. We have tried to present this version as close to the original as possible, as it would have first appeared when published in 1899.
The book is too large to download online and is available on a memory stick for £5 plus postage and packing.
Paypal
Delivery within a week of purchasing.
Membership to The Cumnock History Group is open to anyone with an interest in the history and heritage of Cumnock and its inhabitants.